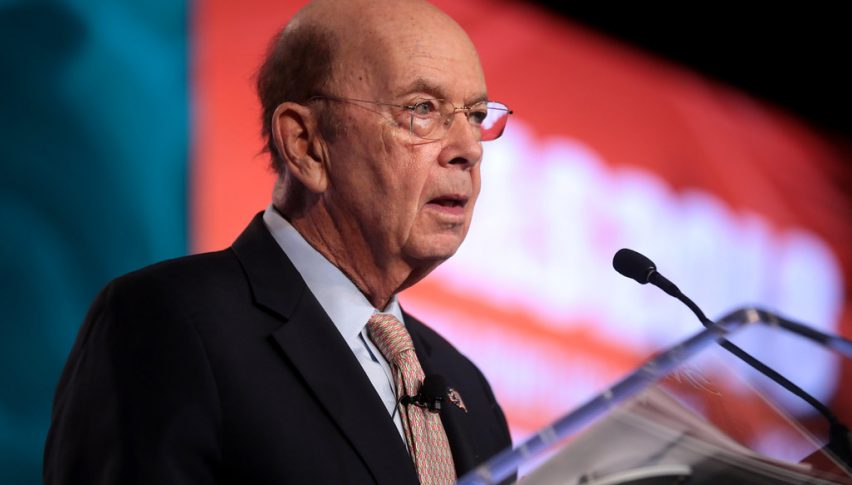 Yesterday in the afternoon we heard FED chairman Jerome Powell say that there is nothing booming in the US economy at the moment, suggesting that there is an overall weakness in the economy. That hurt the sentiment, especially for the USD which turned bearish. Powell was also concerned for the growth of US national debt which, according to him, exceeds the economic growth.
But, during the Asian session we heard US President economic adviser Kudlow say that they are getting close to the trade deal with China. "Talks with China have been very constructive and the mood music is pretty good". Later on, US commerce secretary, Wilbur Ross said that the deal with China will be done in all likelihood. That improved the sentiment in financial markets again and risk assets have gained some momentum, while GOLD and the JPY are sliding lower.
The European Session
No Fiscal Relief in Germany – The European Central Bank has been asking European government to increase fiscal spending for quite some time, which was mostly directed to Germany, since the EU is urging Italy and France to cut spending. We heard some comments from German officials, pointing to a possible fiscal stimulus, but the most recent comments have ignored that. Today, the German finance ministry via Handelsblatt say that they have no plan to cut corporate taxes, which would be a nice stimulus for German manufacturers at this difficult time.
Eurozone Final Inflation Reading – The final CPI inflation reading report was released a this morning from the Eurozone. Headline CPI remained unchanged at 0.7%. Core CPI also remained unchanged from the initial reading at 1.1%.
Eurozone Trade Balance – The trade balance report was released at the same time as the inflation report and it includes goods and services. Eurozone September trade balance shrank to €18.3 billion against €18.7 billion expected. Previous trade balance stood at €20.3 billion but was revised to €19.7 billion.
Italian Final Inflation Reading – Last month's inflation report showed that the CPI (consumer price index) fell flat for October. But, today final reading report showed that CPI declined by 0.1% instead in October. CPI YoY was also revised lower to 0.2% from 0.3% in the prelim reading. HICP MoM remained unchanged at 0.2% vs 0.2% prelim, as did HICP YoY.
The US Session
Wilbur Ross Optimistic on "Phase One" Deal – US commerce secretary Wilbur Ross made some comments a while ago, which sound optimistic. He said US-China trade deal will be done 'in all likelihood'. There is a very high probability that a deal will be reached. Chinese agricultural purchases and execution of those are an issue. Huawei not an appropriate player in the US 5G space. US will have deal with China or keep tariffs. But there is still plenty of time for that. There will be another trade call with China today. We are much farther along with details of trade deal with China. Trump has not yet indicated any change in 15 December tariffs.
Irish PM Confident for a EU-UK Trade Deal by the End of 2020 – Even if Brexit goes smoothly, the UK will have to strike a trade deal with the EU. Ireland's Varadkar said today that it will be difficult but not impossible to negotiate UK-EU trade deal by end of 2020. It took the EU and Canada seven years to iron out a trade agreement and another year to ratify as well as implement said agreement. The UK is looking for something similar and they plan to do it all within eleven months.
US Retail Sales – The retail sales report from US has been released. Headline sales beat expectations of 0.1% and grew by 0.3% instead. Although, core retail sales missed expectations of 0.3% and increased by 0.2% in October. But, it's a positive thing that they grew in October, after declining in September. Retail sales excluding auto and gas came at 0.1% versus 0.3% estimated. Last month was revised lower to -0.1% from 0.0%. Control group increased by 0.3% versus 0.3% estimated. Last month was revised to -0.1% as well from 0.0% in the initial reading. A mixed report, especially the revisions, and the USD is not impressed much by the numbers.
Trades in Sight
The trend has bearish this month
The 50 SMA is pushing the price down on the H1 chart
Fundamentals have turned bearish for the Aussie this week
The 50 SMA is providing resistance for AUD/USD
EUR/USD was bullish during October, as the sentiment improved in financial markets, but the sentiment turned mildly negative this month and risk assets such as commodity dollars have turned bearish. The Aussie has another reason to be bearish this week, after the jump in the unemployment rate which we saw earlier. During this time, the 50 SMA (yellow) has been providing resistance on pullbacks, pushing this pair lower. Today, the price has moved just above the 50 SMA, but buyers are failing to push higher and the previous candlestick points to a bearish reversal soon. Besides that, the retrace higher is complete as stochastic shows.
In Conclusion
The USD has been a bit under pressure since Powell's speech yesterday which offered no sign of optimism. Although, today we are seeing some appetite for risk after comments from Kudlow and Wilbur Ross, who sounded optimistic about the "Phase One" deal. As a result, safe havens are under some pressure today.
Source link