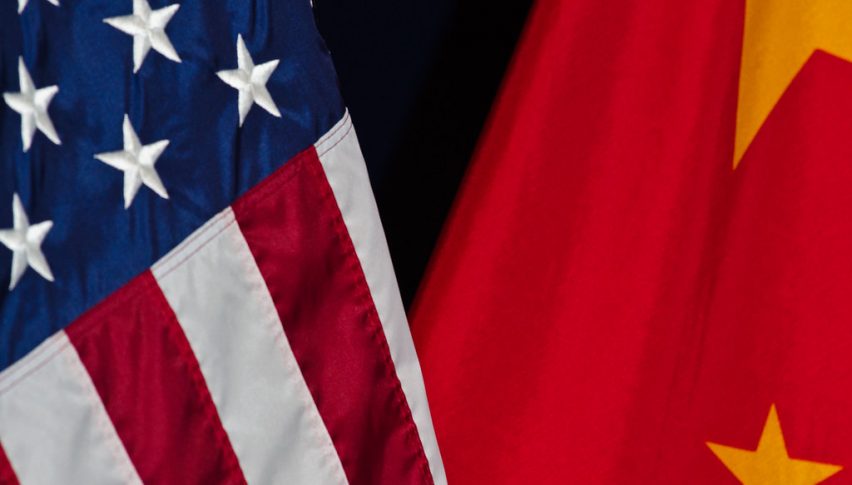 The rhetoric between US and China escalated a bit in recent weeks, as the US Senate passed a human rights bill on Hong Kong, after months of protests and many arrests there. China didn't like that, obviously and they have been complaining about it, which lowered odds of a trade deal being struck by the two giants. But, we heard Donald Trump towards the end of the weekend say that the Phase One deal was very close to being complete, which improved the sentiment a little in financial markets. We also heard today that Phase Two deal is within sight.
Today, we heard Chinese officials say that they will tackle IP (intellectual property) theft. That has been one of the main issues for the US, since foreign companies operating in China are legally forced to share technology with Chinese partners and this is the first time that China accepts that it will fight IP theft. These comments helped the sentiment further during the Asian session, with safe havens such as GOLD slipping lower, while USD/JPY moved higher. But the optimism has faded away now.
The European Session
German Ifo Business Climate – The manufacturing ans industrial sectors have been in deep recession in Germany for many months. The business has suffered in general and the business climate/sentiment has deteriorated as well. The Ifo business climate report was released a while ago, showing a little improvement, but nothing extraordinary. Ifo business climate moved to 95.0 points against 94.9 expected. The prior number stood at 94.6 points but was revised to 94.7. Expectations fell to 92.1 points vs 92.5 expected. Current assessment 97.9 points vs 97.9 expected.

Trade Truce Is Not Trade Peace for IMF's Georgieva

– The new IMF chief, Kristalina Georgieva, weighed in on the US-China trade rhetoric, saying that the trade truce is not the same as trade peace. They are closely monitoring US-China trade negotiations. What we hear from both sides provides us some reason for cautious optimism. She is the new IMF chief, after Lagarde left for the head of the ECB, so they're just recycling top positions between them.
China's Foreign Ministry Plays Good Cop, Bad Cop – The Chinese foreign ministry made some comments early this morning, saying that they hope US will work on basis of equality, mutual respect on trade. They also reiterates opposition to foreign meddling of HK affairs. Global Times citing some comments by the Chinese foreign ministry "The #US is used to suppressing specific countries and enterprises without any solid evidence, said Chinese FM, slamming the #FCC for barring China's #Huawei and #ZTE from supplying US carriers in rural areas. This economic bullying by the #US side blatantly flouts US' principle of market economy. If this principle does not need to be adhered to, other countries can also do the same to US companies: Chinese FM"
PBOC Feeling the Pressure – The People's Bank of China made some comments today. They accept that the downward pressure on economy is increasing. But economic resilience is still relatively strong. Potential risks, problems will be difficult to eliminate in the short-term. China will continue to implement prudent monetary policy, proactive fiscal policy. To further improve financial support to the real economy. Will steadily resolve shadow banking risks.
The US Session
Belgian NBB Business Climate – The business climate has been deteriorating in Belgium, as in the rest of the globe. This indicator turned negative in December last year and since then it has tanked further, falling to -5.7 points in September, which was the lowest. Last month it improved to -4.6 points though. Today, business climate improved further to -3.9 points, but missed expectations of -3.3 points.
Broad Consensus on Phase one Deal, Reports Global Times – Global Times released a report earlier, suggesting that US and China have reached a broad consensus on the partial deal. "Contrary to some media reports suggesting China and the US are struggling to reach a trade deal, the two sides are still moving closer to agreeing upon a phase one trade agreement with broad consensus having been reached, despite differences over the scale of tariff removals, according to Chinese experts close to the government."The two sides have basically reached broad consensus for the phase one agreement," Gao Lingyun, an expert at the Chinese Academy of Social Sciences in Beijing who is close to the trade talks, told the Global Times on Monday, noting that the two sides are still moving closer to reaching a phase one deal soon, unlike the "contradictory information" in the media reports."
Canadian Wholesale Sales – Wholesale sales turned negative in August, declining by 1.2%, as the report released last month showed. The previous month was revised lower as well, from 1.7% to 1.4%. Although, today's report showed that the sales increased by 1.0% in September . There were no expectations for this report.
Trades in Sight
The trend is still bearish
The retrace higher is complete
Fundamentals point further down
Buyers can't turn the tide around for Gold
Gold turned bearish in September after being really bullish in Q2, as a result of the weakening global economy and an escalating trade war. But, the rhetoric softened in September and Gold retraced lower. In October, US and China agreed on principle on a partial deal and the sentiment improved further in financial markets. This month the decline has resumed again and it seems like buyers can't get the right footing to make a reversal higher. As a result, Gold continues to slip lower and recent comments from US and China point further to the downside.
In Conclusion
Markets have been pretty quiet today. The economic data has been light, so markets will get even quieter as we head towards the end of the US session. But, in the evening, the retail sales report will be released form New Zealand, which will likely sparks things a bit for the Kiwi. But, we will keep an eye for anything which might pop up, such as comments on the trade war.
Source link